News
Current information about ProPack AG, trade fairs, seals, customers, partners. Today. Tomorrow. Together.
Who we are
Founded more than 30 years ago, we are a global provider of sealing solutions, supplying technologies and services to almost all process industries.
Our machinery is constantly being expanded.
The entire machine park includes 17 braiding units, with which ProPack AG has a production capacity of over 120 tons of packages per year. From 2 to 4-diagonal braiding machines in the size segments 3 to 100 mm.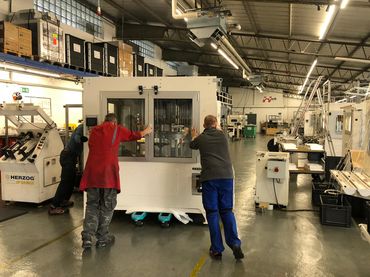 Case studies
Sealing applications in practice
Industry: Pulp and Paper
Maschine: High-Pressure Feeder
Industry: Pulp and paper
After only 7 months, a graphite packing failed due to excessive extrusion. One sleeve was damaged. Causing costs: 5.000 € / 6.000 $.
The feeder was repacked with a Trapez-Pack®30. It is now 12 month in service and still running.

Trapez-Pack®30
Hochreine Kohlefaser
Industry: Chemical
Machine: Dryer
Conditions on a shaft of low speed (6 rpm), high pressure (15 bar) and high temperature (250 °C ), a package lasted 6 months. Repackaging was a costly affair each time and brought downtime costs in addition to product loss. As an improvement, the customer chose our TP55, which has already lasted 24 months.

Trapez-Pack®55
with carbon fiber corner reinforcement
Industry: Food
Machine: Isegen rotary valve
Dry PTFE packing with 4 rings 12.7 mm on a 30 mm shaft at low pressure (1 bar) and room temperature. The service life was mostly only 2 weeks and ended with uncontrollable leakage. The shaft sleeve used had to be replaced after 12 months. Our TP619 is now in use and has lasted 6 months so far.

Trapez-Pack®619
heat conductive ePTFE Yarn and form stable PTFE fibers